A Nigerian lady named Chinenye Sylvia has just taken to facebook to reveal that her Aunty Just welcomed a baby, 3 Months after welcoming a set of twins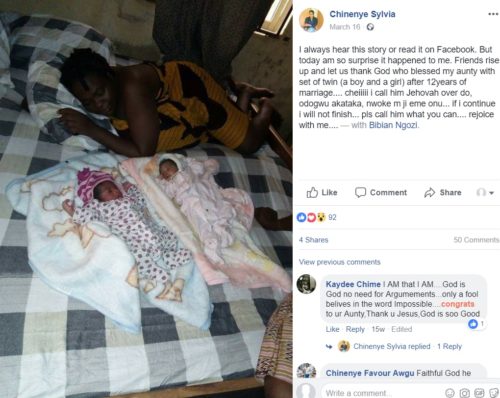 It will be recalled that on March 16 Chinenye Sylvia Posted:
 I always hear this story or read it on Facebook. But today am so surprise it happened to me. Friends rise up and let us thank God who blessed my aunty with set of twin (a boy and a girl) after 12years of marriage…. cheiiiii i call him Jehovah over do, odogwu akataka, nwoke m ji eme onu… if i continue i will not finish… pls call him what you can…. rejoice with me….
Then fastforaward to June 3oth;
Cheiiiiiiiiiiii….. remeber when i shared the first picture of my aunty that gave birth to twins after 12years of marriage… just yesterday another baby came from same stomach… 3months after… she always complain of her stomach growing instead of going down after giving brith to the twins not knowing that one child is still remaining there. And the baby boy came forth yesterday which is the 2nd picture. People this is three months after. Since i was born and now am getting old, i have not seen this type of miracle… that is why i call him jehovah overdo, omalichachukwu, odogwu, ome ihe nyiri mmadu na omumw, onye ana akpo otu oku oza ugboro iri. Friends pls call him names, and rejoice with me. So my anuty have triplet. 2boys and a girls…12yrs after marriage in a miraculous way.