Singer Teni was among several Nigerian celebrities who joined the EndSARS online campaign

The singer in an exchange with a troll made a painful revelation about how her late dad was assassinated

Teni while clamping down on the individual added that no one knows the length she goes in protecting people from police officers There has been an ongoing outcry on social media for the Nigerian government to disband the Special Anti Robbery Squad (SARS) unit of the police, and several celebrities in the country also lent their voices to the campaign.
Among those who used their platform to speak against the activities of the SARS operatives is much-loved singer, Teniola Apata.
The Uyo Meyo crooner via posts shared on her Twitter page condemned the actions of men of the force who are doing the exact opposite of their jobs in the society. Empty promises won't work this time
Singer Runtown set to lead protest to end SARS However, while Teni was doing her bit, an online troll used the opportunity to take a jab at her and berate her for agitating on social media instead of coming out to protest on the streets. The comment by the individual caught Teni's attention and caused her to make a sad revelation about how her late father, Simeon Apata, was assassinated by unknown gunmen. Teni stated that the troll has no idea about the pain she has felt all her life.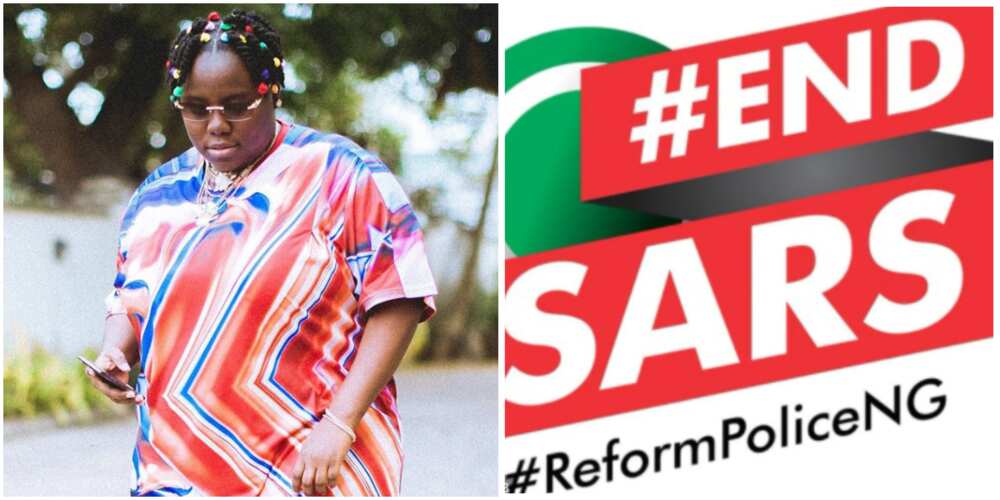 Singer Teniola Apata lent her voice the EndSARS movement.
Photo: Instagram/@tenientertainer Source: Instagram In addition, the singer added that no one knows what she does all in the name of protecting people from police officers on the streets.
"My father was assassinated. So you don't know the pain I've felt all my life! You don't know what I do on these streets, saving people from police. I don't have to tweet everything I do. Go do your bit, I'm doing mine.
My father was Assassinated. So you don't know the pain I've felt all my life! You don't know what I do on these streets, saving people from police. I don't have to tweet everything I do. Go do your bit, I'm doing mine. https://t.co/AXulY5JRDl

— OBA ORIN (@TeniEntertainer) October 4, 2020
My father was Assassinated. So you don't know the pain I've felt all my life! You don't know what I do on these streets, saving people from police. I don't have to tweet everything I do. Go do your bit, I'm doing mine. https://t.co/AXulY5JRDl

— OBA ORIN (@TeniEntertainer) October 4, 2020
My father was Assassinated. So you don't know the pain I've felt all my life! You don't know what I do on these streets, saving people from police. I don't have to tweet everything I do. Go do your bit, I'm doing mine. https://t.co/AXulY5JRDl

— OBA ORIN (@TeniEntertainer) October 4, 2020