Iker Casillas has jumped on the debate of who is better between Ronaldo and Messi

The Real Madrid legend played alongside the 35-year-old for six years at Santiago Bernabeu

Casillas believes his former teammate Ronaldo has had a better career than Messi Real Madrid legend Iker Casillas believes his former teammate Cristiano Ronaldo has had a 'more impressive career' compared to his arch-rival Lionel Messi.
Both stars have been on top of world football for over a decade now – sharing 11 Ballon d'Or awards between themselves. Although the Portuguese forward is more successful in the history of the Champions League, having won the title a record five times – one more than the Barcelona captain.
The legendary goalkeeper played alongside the 35-year-old at Santiago Bernabeu for about six years however rates him better than Messi. Casillas told ESPN: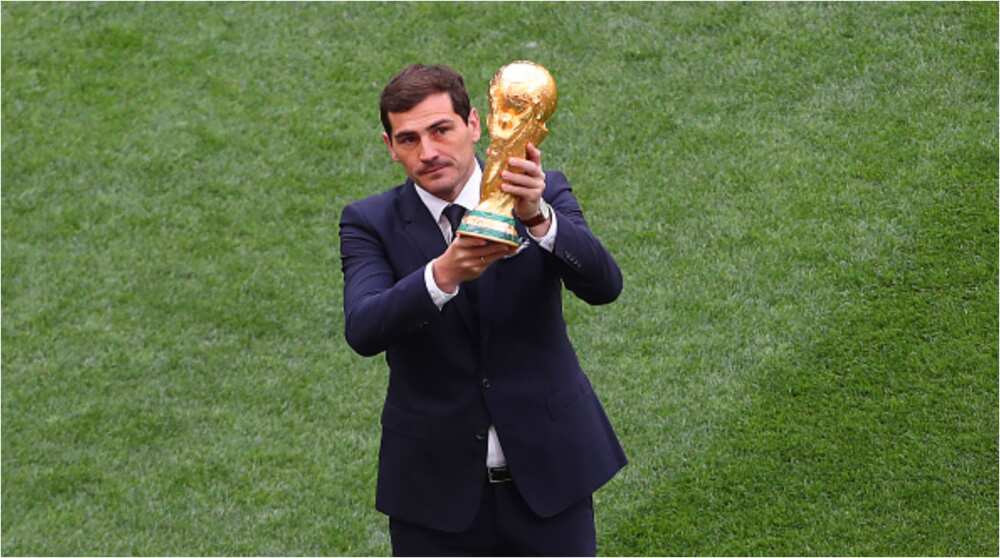 Iker Casillas lifting the FIFA World Cup title. Getty Images Source: Getty Images
|"Cristiano always had a huge desire to be the best, ever since he was a boy and I believe he has achieved that.
|"If I have to compare him to Messi, what Cristiano has done is more impressive because we all know the talent Messi has, but Cristiano was determined and worked hard to be the best.
|"I feel we have been lucky to have been able to enjoy two phenomenal players. For people that don't know Cristiano, he can appear to be cocky and arrogant, but it's totally the opposite."
Casillas joined FC Porto in 2015 after ending his relationship with Los Blancos unceremoniously and retired at the age of 39 in August 2020.
His decision to quit football when he did was as a result of the health issues he encountered over a year ago.
Iker Casillas is a legend !

World Cup Champion 1x

European Champion 2x

La Liga champion 5x

Copa del Rey Winner 2x

Super Cup Winner 4x

UEFA Champions League champion 3x

UEFA Super Cup 2x

FIFA Club World Cup 1x

International Champions Cup 1x

Get well soon @Iker !#iker pic.twitter.com/yZKt8wjKvG

— Statistics That Matter 🌐 (@Stats_Matter) May 1, 2019