The Nigerian movie industry "Nollywood" has faced a great downturn this year as many actors and actresses tend to lose their lives to the cold hands of death.
Nollywood being Nigeria's number one movie industry is saddled with the responsibility of entertaining Nigerians when it comes to movies and music in some cases.
The deaths of some celebrities in the industry has so far affected the performance of other actors and actresses leading to a rather poor performance by other actors and actresses.
In the late hours of today one of Nollywood actress by name Osas Ighodaro lost her mother to the cold hands of death.
The actress made this known via her official Instagram handle, where she revealed that her mother died on Wednesday, November 4th 2020.
Osas wrote on her page words as follows.
RIP Mummy
Nov 10th, 1955 – Nov 4th, 2020
Pls wake me up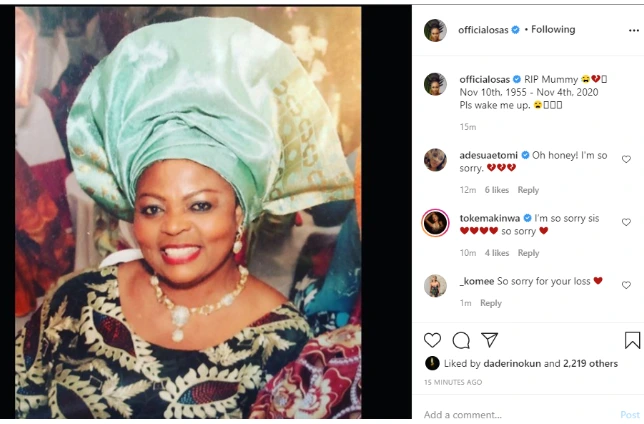 This is rather sad news to all Nigerians and the lovers of Nollywood movies and most especially the fans of Osas.
May the soul of her mother and all the souls of other faithfuls departed through the mercies of God rest in peace.