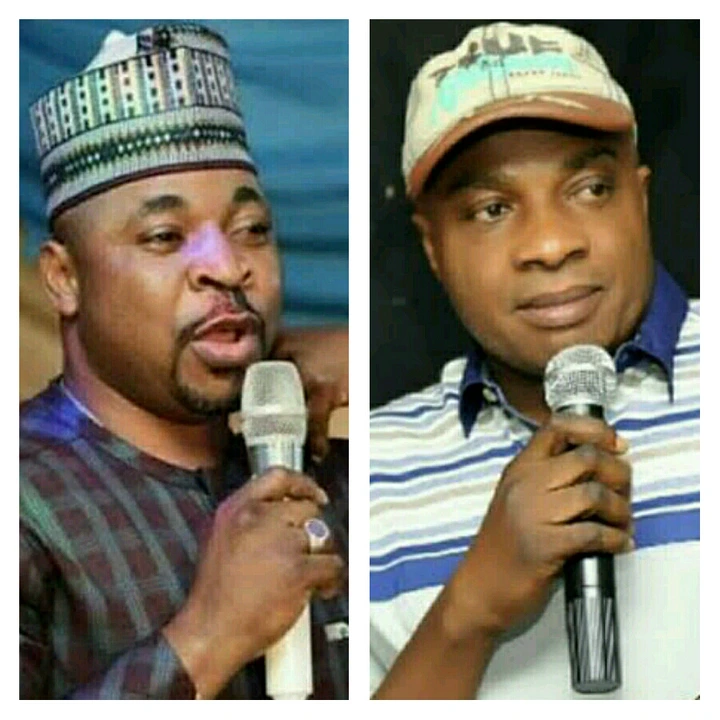 Knowledge, as they say, is power. And that assertion cannot be truer than in a rather funny situation that occurred recently between the Chairman of the National Union of Road Transport Workers (NURTW), Lagos State Chapter, Alhaji Musiliu Ayinde Akinsanya popularly known as MC Oluomo, and a Yoruba movie star, Ebun Oloyede who is better known as Olaiya Igwe. MC Oluomo posed a question to Olaiya Igwe and told him he would give him #200,000.00 (Two Hundred Thousand Naira) cash if he got it right. And you know what, Olaiya Igwe did not know the answer.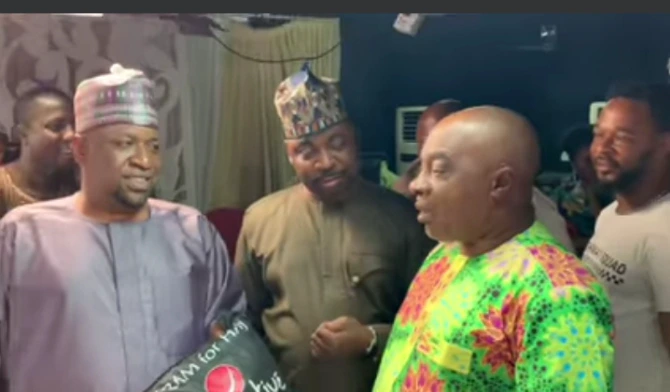 Here is what actually happened. In a behind the scene video recording which was done by one of the Assistants to popular Islamic Cleric, Sheikh Ahmad Olanrewaju better known as Alfulanny, who was running a daily Ramadan Programme on Television during the just concluded fasting period of which MC Oluomo was one of the sponsors, Alfulanny is seen standing together with MC Oluomo and Olaiya Igwe. Moreover, Alfulanny is seen holding a pack of White Ihram Clothing that Muslims wear when performing Hajj or Umrah in Mecca, and MC Oluomo decided to test the knowledge of his associate, Olaiya Igwe about the clothing.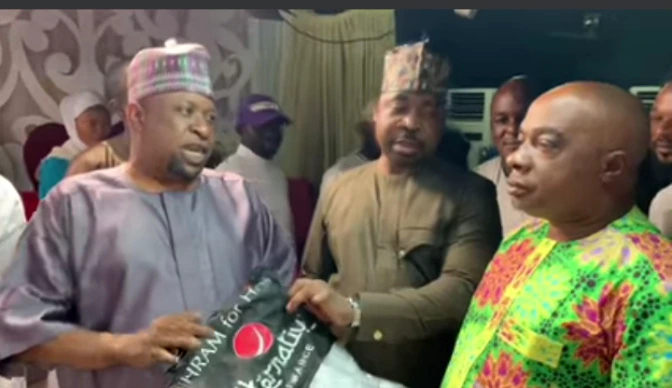 "Apart from Ihram Clothing, what other name is this clothing called?" MC Oluomo fired at Olaiya Igwe. And he immediately added a prize to the answer that, "if you get it right, I will give you 200(K)." He, however, included a condition that he was going to count from one to ten during which the answer must have been produced to qualify for the prize. But unfortunately, Olaiya Igwe who had been to Mecca and performed Hajj before, began to fumble for the right answer while MC Oluomo counted on with his fingers. And that was how Olaiya Igwe lost the chance to be Two Hundred Thousand Naira richer by not knowing the answer within the given time.
The only response Olaiya Igwe could muster to the question was, "it has been a long time ago I went to Mecca," which drew laughter from the people around. He added that the last time he was in Mecca was 1991. He thereafter, admitted that he could not remember another name they call the clothing but he knew it is in it they pray in Mecca. However, when MC Oluomo later asked him for how many days would it be worn by people performing Hajj, he got that right by saying that, "five days." But unfortunately, that second question did not attract a dime!
But come to think of it, what other name is that White Ihram Clothing called either in Arabic, English or Yoruba? If you know it, MC Oluomo may just be reading this, and you never can tell what happens next. That is on a lighter note, though.
See a link to the video clip below…
https://fb.watch/5vfnoxc3RH/