Arike Abiodun who is Popularly Known as Eyinju Eledumare was Born on 8th May,in Oyo State,Nigeria. She is an Actress and a Movie Producer. She Attended Tai Solarin University of Education and Graduated With a Bachelor's Degree in English Language.
Arike Started her Acting Career in 2006 Under the Mentorship of Tijani Adebayo Movie Production. She Became More Popular for er Role in the Movie "Eyinju Eledumare". She has Starred in Many Yoruba Films such as Bibitayo and Agunpopo.
She has Worked with Many Popular Actors and Actresses in the Nollywood Industry which Include the Likes of Femi Adebayo,Peju Ogunmola Bayo Salami and Antar Laniyan. Arike Abiodun is also the Chief Executive Officer of Best Royal Concept and Best Royal Creative House.
She celebrates her mother birthday today on 3rd of June, which she posted on her Instagram page.
Caption with;
THANK YOU, THANK YOU, THANK YOU SO MUCH MAAMI FOR ALL THAT YOU ARE. YOU ARE EVERYTHING AND MORE. I PRAY THIS DAY THAT GOD WILL CONTINUE TO BE GRACIOUS AND GLORIOUS TO YOU MAAMI, MAY YOUR STRENGTH NOT FAIL YOU, NO MATTER HOW LONG YOUR EXISTENCE IS, YOU WILL NEVER MOURN OVER ANYONE OF US,, MAY GOD ALMIGHTY SATISFY ALL YOUR HEART DESIRES CONCERNING US AND MAY ALL YOUR WISHES COME TRUE.. MAY YOUR LATER DAYS AND YEARS BE MUCH MORE GLORIOUS THAN THE FORMER IN JESUS MIGHTY NAME. I AM GRATEFUL FOR YOUR LOVE, SACRIFICES, ATTENTION, SUPPORT, SELFLESSNESS,. THANKS FOR NOT BEING A MOTHER BY MOUTH, THANKS FOR BEING MY SUPER HERO INDEED IN ALL ASPECT OF LIFE. I CHERISH YOU WURAMI. I PRAY AND HOPE DAILY THAT I AM HALF AS AWESOME AS YOU ARE… THANK YOU FOR STICKING WITH ME AND WITH US, THANK YOU FOR CHOOSING US ABOVE MANY OTHER CHOICES AND FOR STICKING AROUND WITHOUT FLINCHING ALL THROUGH THE YEARS. YOU ARE RARE, YOU ARE AWESOME, YOU ARE AMAZING AND YOU ARE MY QUEEN MY MADAM DEAREST…

_

_

I COULD GO ON AND ON AND NEVER GET TIRED… THANK YOU MAAMI FOR TEACHING ME ,OH, YOU TAUGHT US SO WELL TO BE BETTER AND DO BETTER, CONTENTMENT AND HUMILITY TOP THE LIST. THANK YOU FOR HELPING US STAY STRONG, SOME TIMES I WONDER IF YOU HAD EXTRA LIFE SOMEWHERE DUE TO MANY THINGS YOU DO AND BEING THROUGH FOR US MAAMI.

_

LIVE LONG MY QUEEN. I LOVE YOU, WE LOVE YOU WURAMI.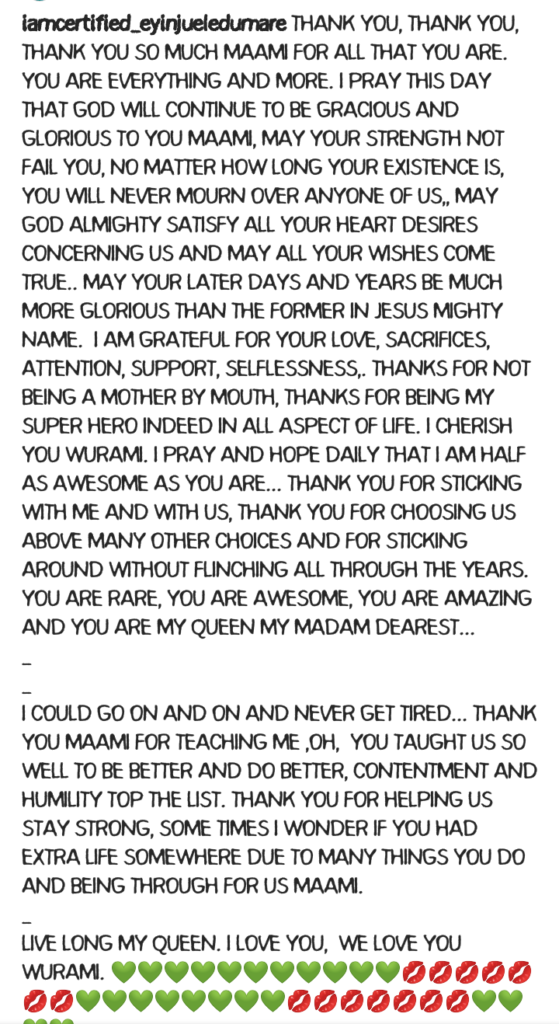 See more photos: