Kwam 1's mother gives her blessings to new wife, Emmanuella after first wife, disappoints son (Details)
Kwam1's mother who will be 103 next month has now given her blessing to the union of her son and his new lover, Emmanuella Ropo.
Nollygistvibes gathered that Kwam 1's 103 mum has prayed for Emmanuella at least twice and has given her consent.
A few weeks back, K1, took Emmanuella to meet Mama for her blessing. And those close to Oluaye Fuji revealed that once that was done they knew there was no going back.
When the news of K1 going into a secret marriage with Emmanuella first broke, many people didn't quite believe it, because many wondered why he would marry Emmanuella secretly. Both have been age-long friends since 2009. Emmanuella has always been a huge fan of K1, just as very many other celebrity ladies, who love K1 and his music.
But when a few months back, the rumour began to make the rounds that K1 was seriously in love with Emmanuella and his wife, Titi asked him about the allegations, he told her point-blank that he wasn't into anything serious with Emmanuella and that she was just one of his female admirers who he had known for years.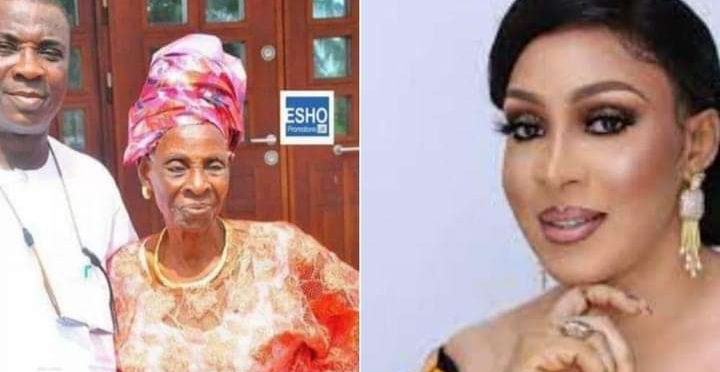 But by the time all sorts of stories, believed to have been sponsored began to make the rounds on social media, K1 was said to have been angry about it, especially when all sorts of allegations were being hauled at Emmanuella and before they knew it, the internet was agog with a big battle between pro-Titi Titans versus pro-Emmanuella Titans, as more and more celebrity women joined the fray and the 2 groups began to curse themselves openly on Facebook and Instagram. More celebrity women were dragged into the matter. K1 we gathered didn't like all these and he allegedly called on his wife to caution her friends, who had launched an attack on Emmanuella, whom K1 believes has not done anything wrong.
Insiders revealed that it was when the attack became intense and persistent that K1 now stepped in by commenting on the brouhaha.
What did he do? He began to eulogise Emmanuella on his Facebook page. A close friend of K1 revealed that K1 didn't think much about all that was going on until it took a turn for the worse. Over the last few days, he took to his Facebook page. He wrote an Oriki: Nuella Mii Ajike, Ojanimogun Ara Ijamo, Omo Epo N Pon roro, Aja N ro dede…. My Nuella Ajike, Ojanimogun of Ijamo. The child of epoch is very difficult. The dog is thinking very well" A close associate of K1 told City People that it was the vociferous attack launched on Emmanuella that made K1 rise in her defence and he now decided to marry her
K1 had, over the last 3 years or so, been full of praise for Titi. In several interviews & at several live performances, K1 had publicly praise sang her.
So what happened? City People reports that the cracks became visible on the marriage when his wife began to listen to 3rd parties who kept regaling her with the tales of the many women who were allegedly close to K1. From time to time, many of her friends kept sending her videos and photos taken from shows where different ladies danced and sprayed money on K1. Along the line, she heard stories of how close Emmanuella is to her husband and she began to complain.
Interestingly, one of the things her husband had warned her against was never to indulge in keeping tabs on him. Those close to K1 revealed that K1 had warned her to desist from engaging in any social media offensive against any of his female fans. But her friends say as a woman, she found it difficult coping with the gossips and insinuations that he had too many women around him.
Interestingly, we heard K1 had repeatedly explained to his wife not to listen to all the rumours and gossips about him and women. He had always told her that the job he does attracts women to him no doubt and that it is not every woman he sees around him that he is dating.
Kwam 1 and titi
That was why he revealed in a 2017 interview with City People that one of the things he liked about Titi was the fact that she doesn't choke him.
"A good relationship needs understanding. When you say you are in love, it is one thing to be in love and another thing to be crazily in love. If you borrow the word crazily in love that means you might not be doing things rightly. I will rather accept being in love than crazily in love. I don't want to find myself crazily in love. Titi is so much in love and everything is working out good for us. No choking, there are lots of understanding and she never listens to hear-say."
That is why she never chokes me. That is why when she called and at the other end saw that I wasn't picking up, she left it for reasons to set in, what are the reasons? That I am busy and will call back when I see her missed calls. That has been our normal norm. Normal norms are there, I respect her and love her. When she has emergency, she will call my boys to know who is around me.
"And even before Titi would do this, there must be something so important she wants to tell me. She knows the normal norms that if I don't get back now, I will surely get back to attend to her. Titi was able to manage that relationship so well that I felt other women had to learn one or two things from her. I am not that easy as a person and for Titi to be able to get along with me while the love keeps burning like we just met yesterday then she has lots of tolerance. She was tutored well. She is someone that has been the magic that works for us. That is one of the many reasons I will never get tired of her."
"She cannot be doing all these and I will get tired of her. She knows when I am high. She knows also my low moments. She does things accordingly. When man and woman don't choke each other, there won't be disagreement, raising of voices."
"Titi and I had never raised voices at each other for once. This is because she is always ready to play number 2. She is not dragging number one."
But is she an only wife City People asked then? "Yes she is the only one and she is very confident. She has not given me room to say because you are doing this, I should go and look for the second person. There is no second person in the picture at all."
That was in 2017. So what happened in 2021 to have put their marriage in trouble.
City People gathered that it was the role some friends played by constantly feeding K1s wife with information about her husband.
They were constantly monitoring her husband's movements and were feeding her with information on his female fans and admirers. This led Titi to now begin to choke him and soon she began to nag about all the ladies around K1.
City People gathered that K1 didn't like this and he told his wife several times to desist from doing this. He even asked her to call some of her friends to order, but things went on abated.
City People gathered that K1 is very unhappy at the turn of events. He is very angry that much as he made sure that his marriage worked, his wife didn't give herself peace of mind. An insider revealed that to make his marriage work, he made sure he shielded his wife away from all the distractions that come with the high profile lifestyle that he lived and a few times they met at functions he celebrated her to high heavens. To further show his wife love, he named all his new businesses after their 3 children. For instance, he called his bread business ANJOLA Bread, so also his Bottled Water business and his rebagging of Rice business, at the expense of complaints from his other kids, from other women.
Explained an inside, "Alhaji did a lot to make Titi happy", "but she didn't really appreciate all K1 did. She wanted K1 to herself all alone. She should have realised that she is married to a Superstar, whose stardom will attract women to him. She should know that it is not every woman who comes his way that he is dating. This is what you get when a woman is married to a showbiz star and she keeps monitoring him around to see whether he is cheating on her or not."
Already, the fight between Titi Masha and Emmanuella has split many Lagos celebrity women, as many have taken sides. There are those who are on Titi's side. And they are many, whilst there are those who are right behind Emmanuella, and they are equally enormous.
There is a 3rd group that feel that Titi did not handle the situation well. They feel that she also didn't manage K1 well. They insist that she should have appreciated all Alhaji has done for her and the many concessions he gave her. They explained that it was to shield Titi away from many society people that he told her to keep a low profile and live where she has been living. Because K1 is on the road 24/7 and he feels his wife can't be going up and down with him. He insisted that she stays in Lagos and only comes on visits to his Ijebu-Ode home where he lives whenever she feels like.