Peter Fatomilola is a veteran Yoruba actor, Nigeria dramatist, poet and polific playwright, this actor is known for his unique knowledge of herbs and the Yoruba tradition.
Peter Fatomilola also plays the role of herbalist or Ifa priest in movies and he once revealed in an interview that this roles actually mirror who he is in reality, Peter Fatomilola was born on 16th of January 1946 he was born in Ekiti state as the only child of his mother and the son of a chief Ifa priest, Peter Fatomilola also stated that his father chief Abraham Ojo Fatomilola was the Olu Awo of his town, his background as a son of an Ifa priest has influenced a lot of his nollywood roles.
Peter Fatomilola is also an Ifa priest and an herbalist. This actor revealed that at the age of 9 he could interpret the Odu Ifa very well and at the age of 18 he had already master the Ifa and herbs. He attended Ife city commercial college in Ile-Ife the actor revealed that he was so interested in learning about Ifa that he almost forgot about formal education. It was his mother persistence that enable him to get educated formally.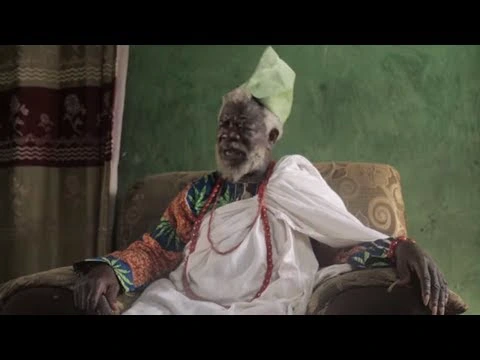 The veteran actor also revealed that his love for books was ignited when he started attending church with his mother it was during his Secondary School days that he met Olarotimi who was the pioneer of the Ife city dramatic society.
The actor played a lead role in the drama Oro Ikoko after his Secondary School education he joined the late Professor Olarotimi in the year 1967 it was the professor that advised him to study drama at the University.
The dramatic society later became the university of Ife theatre and then the Obafemi Awolowo University theatre which remain it name till date. The actor revealed that his mother was unhappy about his decision to focus on acting but when she discovered that the theatre he was involved in was a befitting profession she prayed for him and allowed him to continue with his dream, she was pleased to see him become a reputable theatre practitioner as she eventually died a happy mother in December 2014.
The actor disclosed that he was inspired to go into drama when he started watching the Ife festival during that time the Ifa priest would come to his father's house and they often sang and dance while playing instrument which were an introduction to drama for him.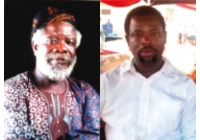 Peter Fatomilola joined the Olokun theatre group in 1967 he was under the tutorlage of the late Professor Olarotimi a renounced dramatist and polific playwright at the Obafemi Awolowo University, he revealed that he also trained under professor Wole Soyinka for 10 years.
Currently Peter Fatomilola is a retiree he retired from Obafemi Awolowo University in 2006 and he has since focus on farming although he still features in movies whenever he is called upon, he has featured in over 100 movies.
This veteran actor is married to 3 wives and he has 11 children however he does not revealed his families identity on social media platforms.
Below is the actor, his wife and children picture