SpaceX just launched the first private moon mission and it marks a new phase in space flight
Warning
: Attempt to read property "post_excerpt" on null in
/www/wwwroot/knowledgebase.com.ng/wp-content/themes/chromenews/inc/hooks/hook-single-header.php
on line
87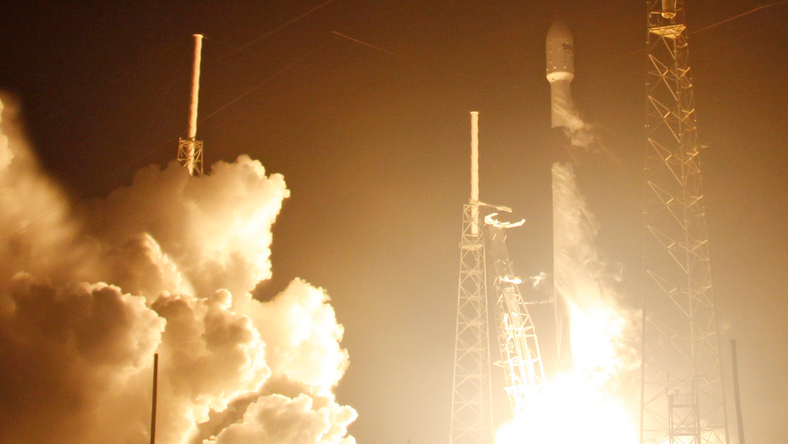 On Thursday night, SpaceX launched a Falcon 9 rocket carrying the first-ever private moon mission.
SpaceIL , a nonprofit organization based in Israel , designed and built the 1,322-pound lunar lander called "Beresheet," which means "in the beginning" (the first words in the Bible).
SpaceIL started as a Google Lunar XPrize team and is backed by South African billionaire Morris Kahn.
If the Beresheet mission survives a weeks-long trip to the lunar surface, it will make Israel the fourth country ever to pull off a moon landing .
Following is a transcript of the video. Narrator: An Israeli company called Space IL just became the first private company to launch a mission to the moon, hitching a ride on SpaceX's Falcon 9 Rocket, which took off from Cape Canaveral, Florida. Israel is now the fourth country, after the U.S., Russia, and China, to launch a robotic lander to the surface of the moon.
Dave Mosher: This isn't just any SpaceX launch. This one is different. And it represents a new phase in space flight.Narrator: The last crewed moon mission happened in 1972, just three years after Neil Armstrong became the first man to walk on the moon. No human has been back since, only uncrewed payloads. But, why? Mosher: It fell out of favour because we were trying to get the Space Shuttle program off the ground. We were trying to build the Space Station. We were trying to do all these other things to survive long-term in space. And so now, we're starting to finally look back at the moon. Announcer : Today, the Google Lunar XPRIZE ignites our imagination.
Mosher: This whole mission owes its existence to the Google Lunar XPRIZE. This is a competition that started in September 2007. The prize: $20 million to the first private entity that could land a spacecraft on the moon and move 500 meters. Narrator: The deadline to win the $20 million passed in 2018 but the competition continues, only without a cash prize for the winner. Space IL built a 1,300-pound robotic spacecraft called "Beresheet," which is Hebrew for "in the beginning." The craft is equipped with cameras, magnetic sensors, and transmitters that, after landing on the lunar surface, will collect and send data back to Earth. Morris Kahn: The challenge was, could Israel innovate and actually achieve this objective with a smaller budget and being a smaller country and without a big space industry backing it? Mosher: Morris Khan is a South African entrepreneur, a billionaire who lives in Israel. He's helped fundraise for the mission to the point of $100 million. He sees that as a huge point of pride for Israel. Kahn: My personal stake is actually in excess of about 42, 43 million at this point in time, and counting. I would have liked to have got more support from the government, but we didn't. And actually what it did was, it left us the initiative to do what we thought was necessary. So, maybe the fact that they didn't put all that money in didn't give them control and actually gave us the ability to do what we thought was what was necessary. And we did the job. Narrator: The rocket launched from pad 40 at SpaceX's facility at the Kennedy Space Center in Cape Canaveral, Florida a place that's been making space history for over 50 years. Mosher: Cape Canaveral in Florida is this cradle of space flight history. You've got the birth of theMercury, the Gemini, the Apollo programs and missions that went to the moon, the Space Shuttle program. And SpaceX and others are now leasing and taking over and retrofitting these launchpads for the next wave of the space race. Scott Parazynski : This is really the nucleus of our nation's space program. And it's also a cauldron of international collaboration. Narrator: Scott Parazynski is a veteran of five Shuttle missions and a member of the Astronaut Hall of Fame. Parazynski: Israel is an incredible technological powerhouse, so I think it's extraordinary that now, non-spacefaring nations, in other words, those that don't have the capacity to necessarily launch their own astronauts, are now able to, launch major payloads like this. Perhaps not the too distant future, they will be able to also launch their own astronauts independently. Narrator: After being deployed from SpaceX's Falcon Nine rocket, It's going to take two and a half months for SpaceIL's lander to actually get to the moon. A successful landing could be our next small step towards a manned mission to Mars. Parazynski: I think it's imperative that we send crews to the moon and return them to stay, to actually set up a real habitat akin to the South Pole station in Antarctica. I think we should send international crews to work, to explore, to learn to live off of the land. And in so doing, we develop the technologies that would allow us to actually colonize Mars. Mosher: The Space IL mission is just the beginning. In the future, we might look back at this as an inflexion point as to where all of this started, all of this being the permanent settlement of the moon and perhaps even Mars.