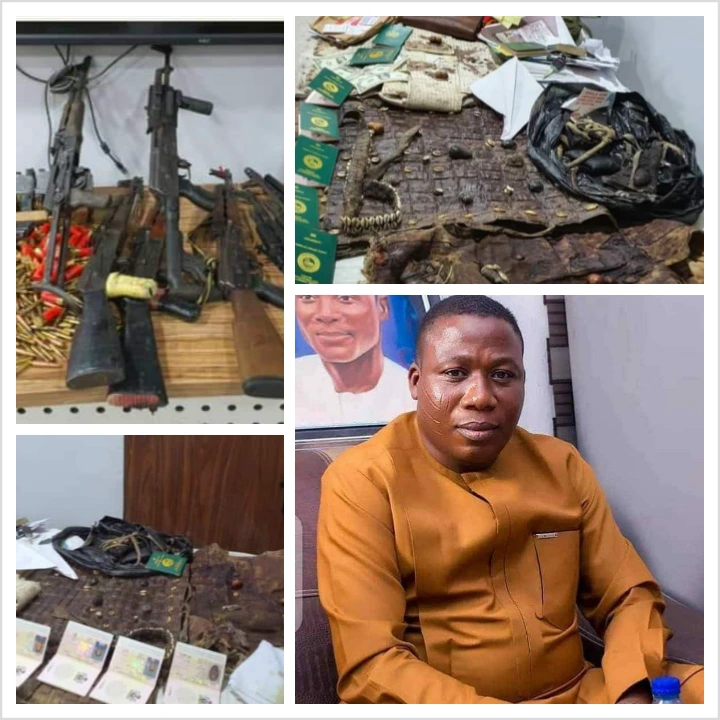 Chief Sunday Adeyemo popularly called Sunday Igboho is a Yoruba Activist. He is a man that is ready to fight for Yoruba. Sunday Adeyemo is a man that wants Yoruba Freedom from Nigeria. He is Agitating for Odua Nation. Nigeria is a country that is faces security challenges. The Fulani Herdsmen own Nigeria. They have done many atrocities in the South West.
Sunday Adeyemo wants Yoruba to stand and fight and regain their Freedom from Fulani Herdsmen.The Fulani Herdsmen have terrorized the South West. They have raped Yoruba women and destroyed farms with their cattle. They have made also know they have equal rights in the South West state.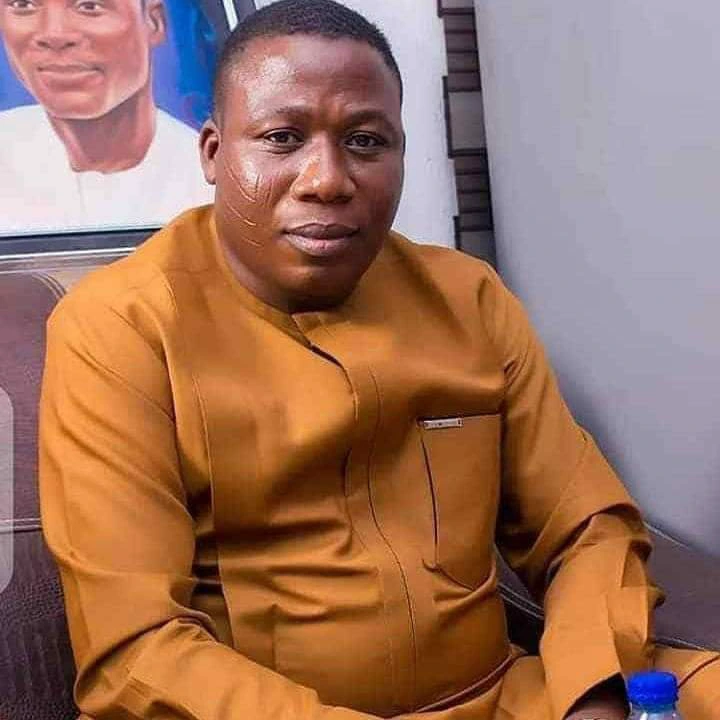 Early hours of Yesterday, some unknown gunmen attacked Sunday Igboho House in Soka, Ibadan Oyo State.The Unknown Gunmen dressed in army Uniforms. Sunday Igboho said they are DSS and Army men. They destroyed his expensive cars. They destroyed the valuable documents in his house. They vandalised everything.
Two men lost their lives in the battle between the Sunday Igboho men and his Unknown Gunmen. Some of his valuable documents were taken and his boys were taken away
The DSS have confirmed that they raided Chief Sunday Igboho House early hours of Yesterday. His boys prevented them from entering the house. Two of his boys were killed and others were arrested and taken to their station. They will face the consequences of their actions.
Sunday Igboho and his boys are disturbing the unity of the country. They are disturbing the PEACE of the country. They want referendum. The DSS said they will face the consequences of their actions
The DSS spokesman, Dr. Peter Afunanya said Igboho and his boys engaged DSS officials in a gun battle and it led to death of some of his boys.
Their raid was based on intelligence that he had stockpiled arms in the place.
The DSS searched the house thoroughly and Recovered the following items:
i. Seven (7) AK-47 assault rifles;
ii. Three (3) Pump Action guns;
iii. Thirty (30) fully charged AK-47 magazines;
iv. Five Thousand (5,000) rounds of 7.62mm ammunition;
v. Five (5) Cutlasses, One (1) Jack knife, One (1) Pen Knife
vi. Two (2) Pistol holsters;
vii. One (1) binoculars
viii. A wallet containing Five (5) US Dollars in one (1) Dollar denomination; local and international driver's licences in his name, ATM Cards, a German residence permit No. YO2N6K1NY bearing his name;
ix. Two (2) whistles;
x. Fifty (5) Cartridges;
xi. Eighteen (18) Walkie-Talkies;
xii. Three Voodoo charm jackets/traditional body armour;
xiii. Two (2) Laptops (One (1) Toshiba and One (1) Compaq); and
xiv. His International Passport and those of many others (as displayed here). Further exploitation and forensic analysis are ongoing.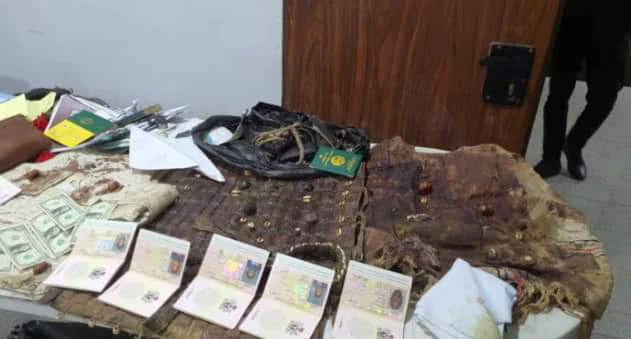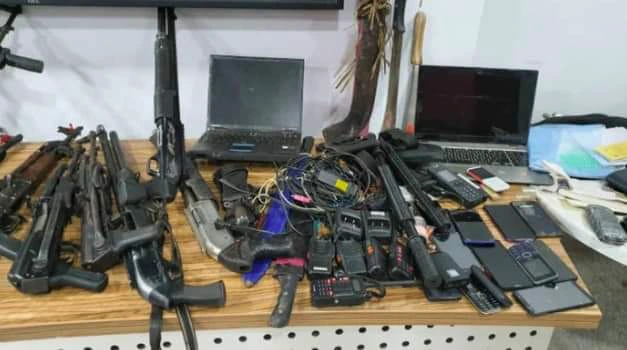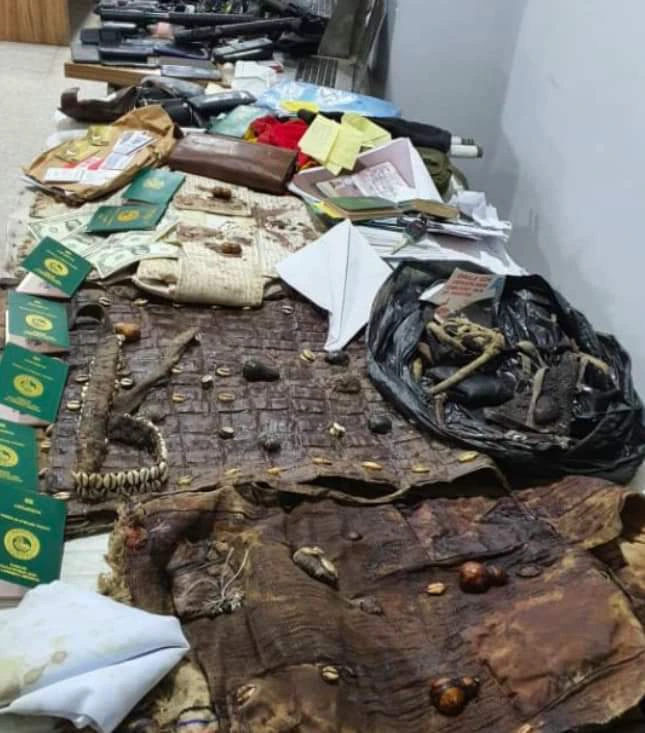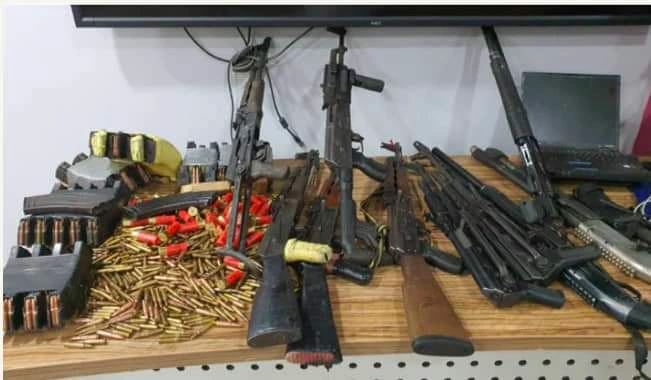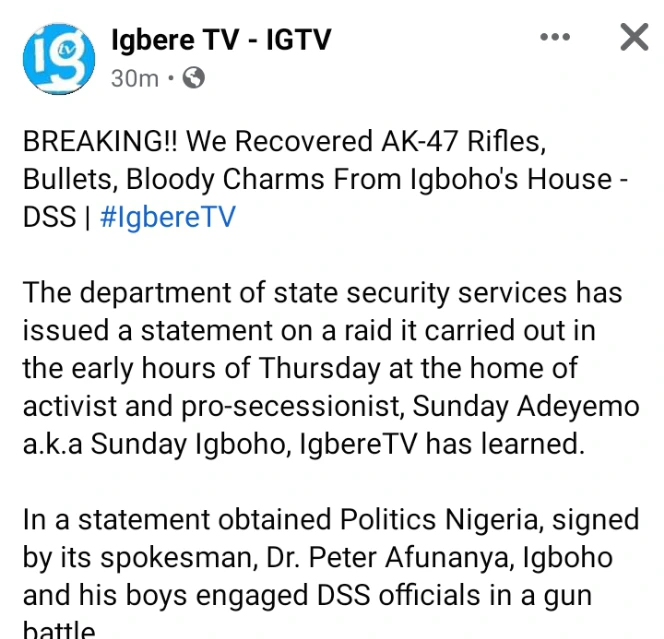 The Igboho Boys arrested will be charged to Court. The DSS now urged Sunday Igboho to surrender himself to the nearest Police Station. The DSS will Definitely arrest him. The DSS said he can't hide forever